I have inserted a map of Burma just a visual guide of my itinerary.
Myanmar or Burma is a country in Southeast Asia. It lies on the Bay of Bengal and Andaman Sea coast with Bangladesh and India to the west, China to the north, and Laos and Thailand to the east.
I have been dreaming to travel to Burma for nearly 3 years and I am full of excitement about what I will encounter in the "Golden land" of Myanmar.
Myanmar's culture is largely a result of heavy Indian influences intertwined with local traditions and some Chinese influences. This can be seen in the various stupas and temples throughout the country, which bear a distinct resemblance to those in northern India. About 87% of Myanmar's citizens are Theravada Buddhism, but this is blended with a strong belief in nat (guardian spirit beings). Other religions which exist in smaller numbers include Christianity, Islam and Hinduism.
The dominant ethnic group in Myanmar is known as the Bamar, Myanmar is also home to many minority ethnic groups and nationalities which have their own distinct cultures and languages. In addition to the native ethnic minorities, Myanmar is also home to ethnic Chinese and Indians whose ancestors migrated to Myanmar during the colonial period, most visible in the cities of Yangon and Mandalay. Generally speaking, the divisions in Myanmar are Bamar-dominated, while the states are dominated by the respective ethnic minorities.
It is early in the morning when I land in Yangon airport. I make my way to a taxi booking desk and to my surprise I found a cash machine. It is handy as I don't like to carry lots of money around. I withdraw 20.000 kyat, it should be enough for the first few days and if the rate is good for the first week. I only realised I had withdrawn only $20.00 (with the conversion) it was barely enough to pay the taxi. Here I encounter men wearing skirt-like longyi, women smothered in thanaka (traditional make-up) and monk on  maroon-colored robes All the way to the hotel I try to form some kind of impression of what I was seen through the window car. It took me few days to feel in ease in the city, it was loads to take in.
Yangon used to be the capital of Myanmar until 2005 when the generals advised by an astrologer moved the capital to Nay Pyi Taw. Yangon remains the biggest city and economic hub, but the government's attention (and money) is elsewhere and infrastructure is really starting to creak.
Vibrant and dynamic, sweaty and steamy, grasping at the future but trapped in the past; Yangon is the cutting edge of Burmese culture and a fascinating introduction to Myanmar.
Shwedagon Paya is revered by the Burmese people and a symbol of Burmese identity for 2500 years. The gleaming golden stupa can be seen from all over town.
Downtown Yangon is a warren of historic street concealing some of the best colonial-era architecture in the region and home to Burmese, Shan, Mon, Chinese, Indians and Western expats.
(Portugues)




Mianmar ou Birmânia é um país do Sudeste Asiático. Encontra-se na Baía de Bengala e mar de Andaman costa, com Bangladesh e Índia, a oeste, a China ao norte, e Laos  Tailândia a leste.
Eu tenho sonhado com essa viagem a Birmânia por quase 3 anos e estou cheia de entusiasmo sobre o que vai encontrar na "terra de Ouro" da Birmânia.
A cultura da Birmânia é em grande parte resultado de grande influências Indiana entrelaçadas com as tradições locais e algumas influências chinesas. Isto pode ser visto nas várias stupas e templos em todo o país, que carregam uma semelhança distinta para aqueles no norte da Índia. Cerca de 87% dos cidadãos de Myanmar são budistas, mas este se mistura crença forte em nat (seres espirituais). Outras religiões que existem em números menores incluem o Cristianismo, Islamismo e Hinduísmo.
O grupo étnico dominante na Birmânia é conhecida como a Bamar, Birmânia é também o lar de muitos grupos étnicos minoritários e nacionalidades que têm suas próprias culturas e línguas distintas. Além das minorias étnicas nativas, Birmânia é também a casa de etnia chinesa e Indianos cujos ancestrais migraram para Birmânia durante o período colonial, mais visível nas cidades de Yangon e Mandalay.
É de manhã, quando eu aviao pousa no aeroporto de Yangon. Caminho para o quiosk de reserve de táxi e para minha surpresa, encontrei um caixa eletronico. Ésuper útil, pois eu não gosto de carregar muito dinheiro por aí. Eu saco 20.000 kyat, deve ser suficiente para os primeiros dias e, se o cambio for bom para a primeira semana. Eu só percebi que tinha retirado apenas US $ 20.00 (com a conversão)e era apenas o suficiente para pagar o táxi.
Aqui eu encontro homens usando longyi (um tipo de saia), as mulheres pintadas em thanaka (tradicional make-up) e Monges em vestes marrom. Durante todo o caminho até o hotel tento formar uma espécie de impressão do que estava vendo através da janela do carro. Levei alguns dias para sentir a vontade na cidade, e muita coisa para digerir de uma so vez.
Yangon costumava ser a capital de Birmânia até 2005, quando os generais aconselhados por um astrólogo mudou a capital para Nay Pyi Taw. Yangon continua a ser a maior cidade e centro econômico, mas a atenção do governo (e dinheiro) está em outro lugar e infra-estrutura está realmente começando a sofrer.
Vibrante e dinâmica, muito quente e húmida, agarrando-se no futuro, mas presa no passado; Yangon é a vanguarda da cultura Birmanesa e uma fascinante introdução para Myanmar.
Shwedagon Paya é reverenciada pelo povo birmanês e um símbolo da identidade birmanês por 2500 anos. A estupa de ouro reluzente pode ser visto de toda a cidade.
Downtown Yangon é um conjunto de ruas históricas escondendo algumas das melhores arquiteturas da época colonial na região e abriga birmanêses, Shan, Mon, chineses, indianos e expatriados ocidentais.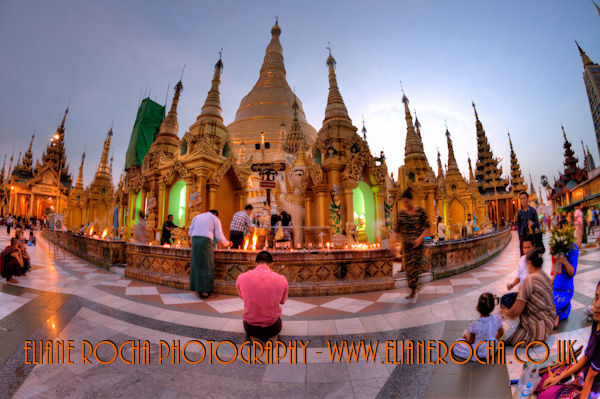 Shwedagon Pagoda – Yangon – Burma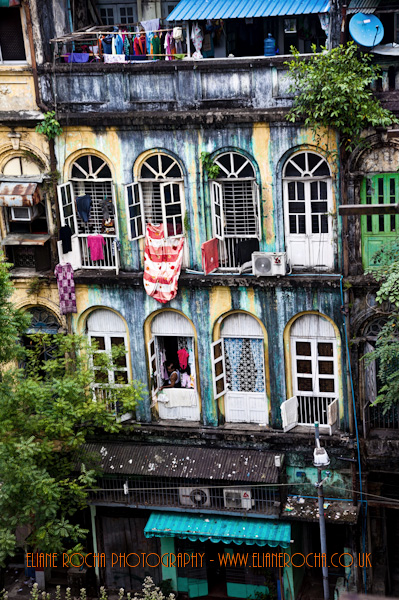 Yangon Downtown